Here we go, I've been following the #weeklychase on a couple of blogs and have been quite inspired by these ladies. I hope the successes and (hopefully not too many) failures inspire others to dust off those sneakers and exercise!
Read More about the
#weeklychase
here!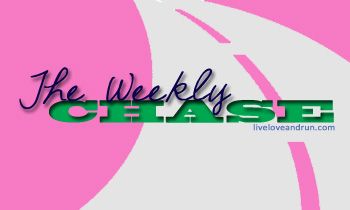 Goal 1:
Complete week two of my Princess Half Training. This will include running on Tuesday, Thursday, Saturday and Sunday.
Goal 2:
Continue the #Squatsept challenge. During this challenge, you are supposed to add 5 squats to your routine every day. Example: Monday = 5, Tuesday = 10 ... I have chosen to do my squats with a v-raise (Jillian Michaels taught me that!)
Goal 3:
Continue to do the #plankaday, push myself to build my time each day.
So, there you have it, my goals for the week!