I'd like to take this opportunity to tell you that chasing my goals this week proved to be SO difficult. I didn't realize how hard it would be to stay accountable to my goals. I'm looking forward to another week of training and loving my life.
Read More about the
#weeklychase
here!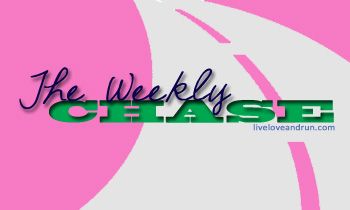 How did I do?
Goal 1:
Complete week two of my Princess Half Training. This will include running on Tuesday, Thursday, Saturday and Sunday.
I trained on Tuesday. However, due to several late nights at work I wasn't able to 1) drag myself in the morning or 2) run in the evening when I returned.
Goal 2:
Continue the #Squatsept challenge. During this challenge, you are supposed to add 5 squats to your routine every day. Example: Monday = 5, Tuesday = 10 ... I have chosen to do my squats with a v-raise (Jillian Michaels taught me that!)
Accomplished! I'm so proud of myself, I wasn't able to run all my scheduled runs but I was able to keep up with this challenge.
Goal 3:
Continue to do the #plankaday, push myself to build my time each day.
Accomplished (mostly). I say mostly, because EVERY day I got a little better except today (Sunday).
So, there you have it! I did okay with my goals. However, I am looking forward to next week.
Goal 1: Continue #Squatsept challenge.
Goal 2: Make #plankaday a part of my daily routine.
Goal 3: Begin a weekly walking tradition with a friend.
Goal 4: Run at least 4 days.
Goal 5: Complete Jillian Michaels Arms workout twice.
So, there you have it! The 5 goals I'm chasing this week!
What are you chasing?