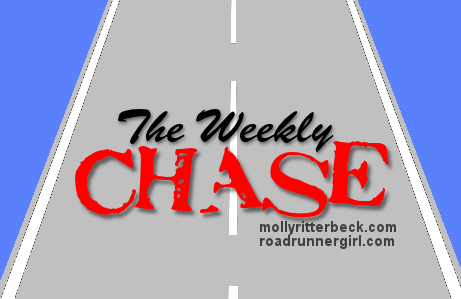 If you follow my blog, you know that the Weekly Chase has recently been re-vamped by
Mindy
and
Molly
. Be sure to check out their blogs for some more great chases and running inspiration! This month, Molly has encouraged us to chase 2 or 3 things for ourselves. It seems that those of us that are (you know)
humans...
seem to be SUPER busy and sometimes we forget to take time for ourselves! So, before I get into my goals for THIS week. Let me tell you about LAST week!
Original Post.
1. Schedule my Dentist Appointment -
DONE
2. Yoga twice -
1/2 Done!
I slept in on Thursday rather than getting up and doing yoga before work.
3. Run 11 Miles on Saturday. -
DONE!!!!!!
I tweeted something to the effect of "11 miles in the morning. Yikes." I was SO encouraged with so many people tweeting to me and telling me i'd do awesome! I was totally freaked out. My husband was away for Friday - Saturday at a football tournament for the youth of a couple of different churches. Since we will be at Disney next weekend, I didn't want to find someone to watch our children 2 weekends in a row. Sooo, I stayed home. I
also
didn't want to miss the opportunity to run my 11 miles this weekend.
I went to bed around 8:30 and set my alarm for 5. ... 5 a.m. came around and I got up to walk the dogs eat some pre-work out snacks. By 5:51, I was out the door for my run.
Mile 1 was absolutely horrible!!!! It took my almost 18 minutes to complete 1 mile. (tears) I was freaking out because it was 6 a.m. my husband wasn't home, if anything were to happen I don't know who I would call, ... you know... FREAKING out! Then, this verse came to me...
2 Timothy 1:7
"For God did not give us the spirit of fear but of power, love and a sound mind".
I had NO reason to be afraid. I wasn't alone, I had the Lord with me. Not only did I have the Lord with me. ... I have at least 4 families that live RIGHT by my running route who I could have called if I needed too. I sucked it up, and ran (with walk breaks) my little heart out! For the final 10 miles, I was able to run mostly 14 - 15 minute miles. Thank you Twitter Family for your support and thank you to my Heavenly Father who comforts me when I need it most.
I am really looking forward to my Disney Princess 1/2 Marathon now!
This week I'm chasing...
1) Finish Laundry / House work by Wednesday (this really is for my sanity)
2) Finish my packing for RunDisney (by Tuesday night)
3) Run 2 days
4) Jillian Michaels 1 time
We leave for our Family 5K on Thursday! I'm excited to share the experience with my in-laws. Hopefully they love RunDisney as much as I do!
What are you chasing this week, wanna meet up at the WDW Marathon Weekend?
_ _ _
As promised, we have a WINNER!