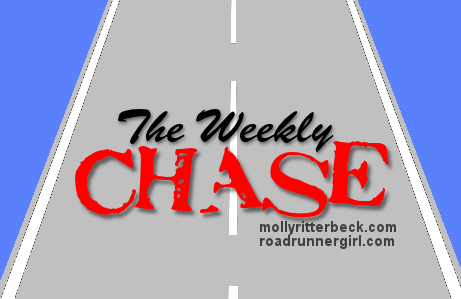 The Weekly Chase is a forum for bloggers (like myself) who are chasing dreams, goals and well you know ... sanity! Each week bloggers are encouraged to share their goals and give an update on how the goals from the previous week went. Thank you to Mindy & Molly for hosting this. Be sure to check out Molly's blog for links to more chases!
If you follow me on Instagram you already know that I met Ms. Road Runner Girl herself! It was SO awesome to meet her in person. I felt like I'd known her my whole life and wished I lived closer so we could like become real life friends! Seriously, she's so great. (FYI - this is not the greatest photo of me - but Mindy looks good!)
CONGRATULATIONS ON COMPLETING YOUR MARATHON!!
What I chased Last Week!
Finish Laundry / House work by Wednesday (this really is for my sanity) - DONE (Mostly! I cleaned the floors when I got home from Disney last night.)
Finish my packing for RunDisney (by Tuesday night) - DONE (Obviously, ... but it was Wednesday not Tuesday)
Run 2 days - DONE! (Monday, Friday & Saturday)
Jillian Michaels 1 time - FAIL!
Excuse Time...
I had set aside time on Wednesday night for my Jillian time. However, as you know my husband is in graduate school. Well, school officially kicked off on Wednesday with an online / in person web class (not very appropriate techy lingo, but you get the point). Anyways, in addition to that he had to read NINE chapters in his text book before Saturday's class in Tampa. So,... while he had his class I took the dogs to Camp Gigi, went to Prayer Meeting and came home to pack for Disney and finish the dinner dishes as quietly as possible. Around 2 a.m. he finished 7 of the 9 chapters as well as the online class session and was ready to help me finish packing. Sooooooooooooooo, Jillian did not help me get shredded last week.
So... I had a good-ish excuse right?
What I'm chasing THIS week!
Remember, we have to chase 2-3 things for ourselves.
Personal Goals:
Decide on an outfit / Princess for the Princess Half Marathon.

Get my eye brows done.
Family Goals:
Cook dinner every night (even Friday before Youth Group!)

Pack Lunches every day

Put away the laundry.
Running/Fitness Goals:
Run 3 days (Tuesday, Thursday, Saturday)

Yoga (Wednesday)

Plank
What are you chasing this week?