Is it time for another Weekly Chase? Already?????
Thank you Mindy Molly for hosting the weekly chase (Blog links are in the image below).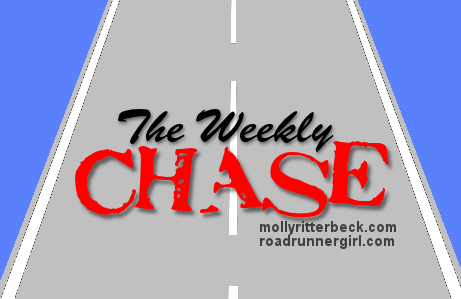 In case you missed it, here is what I chased
last week
!
1) Hydrate, Hydrate, Hydrate - Done! I started taking my BIG water bottle to work and filling that up.
2) Don't over eat in the name of "carb-loading" - 1/2 good, 1/2 bad. I did well at work, and HORRIBLE at home, birthday parties, and the valentines dinner at my in-laws.
3) Run 2 days - Fail. I rested and relaxed this week.
4) Organize my closet - Nope.
Sometimes, we just have a bad week with our goals and you know what? It's OKAY. I'm not making excuses, I'm owning it. That's right, I ate birthday cake, chocolate covered strawberries, Shake & Bake Chicken and LOVED it!
Next Sunday is my very first Half Marathon, and I'm SO excited. I think I told EVERYONE at church, birthday parties, work and maybe even a few total strangers at CVS that I was running in a half marathon. I couldn't help myself!! How can I help but get excited? I have NEVER trained so hard, and looked forward to a race so much in all my life. Even in my swimming days, training for states (I was an alternate in my Senior Year - yeah. ... don't let the title fool you, I wasn't fast! - haha) It is FINALLY here and I canNOT wait!!!!
So, what am I chasing?
1) Hydrate!
2) Run my last two training runs - Tuesday / Thursday
3) Fold / Put away the laundry - by Wednesday
4) Wash the dogs / dog bedding - by Wednesday
5) Dust my living room / Sweep and Mop - Thursday
Love Challenge -
Discuss 2 new ideas, hopes and dreams for our future with my husband
.
If
you are a long time reader of my blog (which, only my husband
really
knew it existed for the first couple months) you may have seen this
post
from last February. I participated in a love challenge. It was a challenge to love your spouse in THEIR language. My husband LOVES to talk about ideas, "what ifs" and dream. Sometimes we don't take time to discuss life - I think it's important to get back into that. So, babe. Let's talk!
Question: Who is racing this weekend?!?!?!!!