Another week, another chase.

Shout out to

Molly

and

Mindy

for helping me make weekly goals, and CHASE them!

Need to catch up? Here is what I chased last week.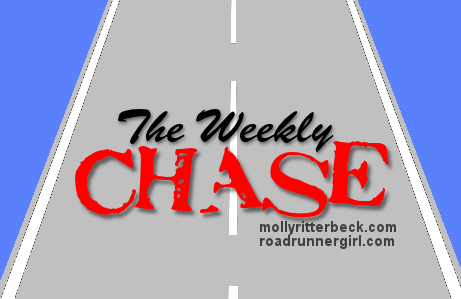 Accountability Time:
1) Meal Plan - Done. I was very proud that we stick with our meal plan too!
2) Run only 1 time - well, I went out for a run on Saturday and ended up walking and talking with my husband instead. (The intent was there though!)
3) Do push ups two days this week - Done!
Also I felt a whole lot better by Wednesday. Thanks to everyone who expressed their concern. Sometimes I feel like I over do it (Staying up too late, training hard, and NOT resting enough).
My next
Half Marathon
is coming up, and I need to get back to training. I won a registration on Mindy's (
Mindy's Fitness Journey
) blog, and i'm
really
excited for the run! So, here we go with my goals!
1) Sleep a minimum of 7 hours per night.
2) Actually follow my running plan (Run Tuesday, Wednesday, Thursday, Saturday & Sunday)
3) Rest on my rest days (Monday / Friday)
4) Paint My Nails - I've been putting that off.
Make it Happen Goal
Calorie Count. I really need to focus on my weight loss goals. I've gotten a little lazy, and I need to pay attention to how much I'm eating. Sometimes I eat too little and other times I don't eat enough! It's a constant struggle. So,... back to counting calories and keeping track of my calories burned!
Be sure you check out Mindy and Molly's blogs for more great link ups!