Monday, Monday!
Now it's time for another Weekly Chase!!
Thank You
Mindy
&
Molly
for hosting the weekly chase each week. It
really
helps keep me focused on my goals!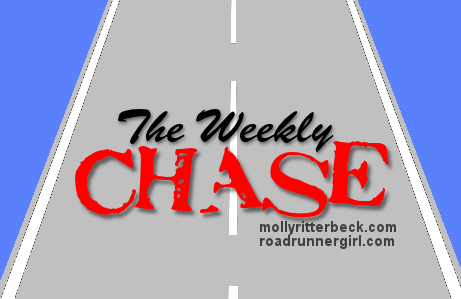 Last week, I had every intention of sleeping, running and eating.
Remember ...
Well, lets re-cap!
1) Sleep 7 Hours per night. - No. Ugh! Sooo Frustrating!! My neighbors were up late playing the bass most nights. So, even though I'd go to bed on time ... I didn't get any more sleep than if i'd stayed up late and watched movies!
2) Actually follow a running plan. HAHAHAHAHAHA (Okay, I didn't follow the plan... - I only ran once!)
3) Rest - YEP! totally rested!
4) Paint my nails - NOOO (so sad, I didn't paint my nails.)
So, here's the deal. I didn't actually do very well with my goals - BUT I had a great week!!
Now that I have openly and honestly confessed that I didn't exercise that much last week, I will also gladly admit that I cleaned my bathroom, mopped my floors, kept up with my meal planning, and spent some quality time with my husband. Living a healthy lifestyle isn't always about exercising, it is also about taking time to find balance and spending time with those you love. (That's how I'm making myself feel better at least).
Sooo, here are my goals for this week!
1) PAINT MY NAILS! - Seriously, I WILL paint my nails.
3) Re-arrange my living room
Make it Happen Goal - Spring Cleaning!!
Organize my clothes - get rid of clothes that are too big.