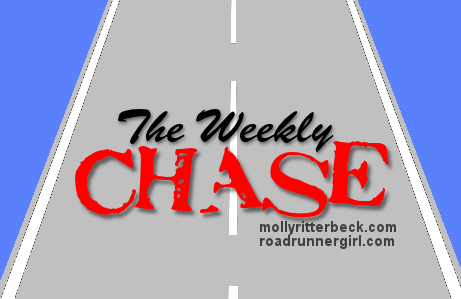 Special Shout out to our hosts of the Weekly Chase! Please check out Mindy and Molly's blogs for more great chases!
I'm please to report that I had a great week! (Honestly, it was just what I needed. I've had FAR too many rough weeks with my goals lately).
1) Water Detox - Done! I actually lost about 5 pounds this week with the detox. :)
2) Eat Salads for dinner and lunch (5 times) - I had salad about 3 times this week and the other days I had just steamed veggies and cheese or chicken (mostly veggies) So, I'd say it was a success!
3) Cook Dinner! - Well, we went to a friends house for dinner one night, and we had dinner at church another night. BUT, on the days were home I cooked.
4) Long Run on Saturday - DONE!
I'm SUPER excited about my goals for this week!
During the month of April we are encouraged to think about a Season of Growth. With that, we are to chase goals that will help us grow! To grow as a runner, or a better wife, or ...whatever you want to focus on and improve. This week, I want to focus on finding balance.
I confessed to Prince Charming the other day that I really struggle with keeping up with a training schedule, working schedule, cleaning schedule AND staying active in our Church. It's just too many things!!
So, this week. I'm going to find balance and it will look like THIS!
Yes, I will take the time to exercise but I also need to take the time clean, and read my bible. So, I'm working to find balance. I have asked my Prince to help me (he agreed) AND now, I'm asking you. Help me to find the time to both keep my laundry pile in order AND actually get some runs in AND read my bible.
Goal 2: Hydrate! - I'm running a Half Marathon on Sunday, and I need to hydrate, hydrate, hydrate!!
Goal 3: Rest, Stretch, Roll - I need to be properly rested, stretched and ready for Sunday
Since my first goal is pretty big I felt I should have some simple goals for the week. That way I can focus on this little thing called balance.
What goals are YOU chasing?