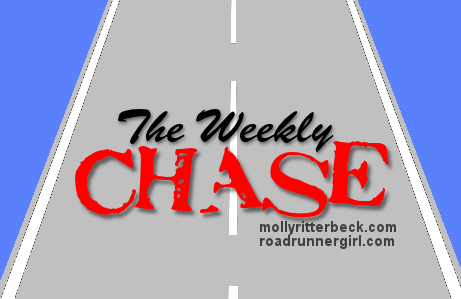 The Weekly Chase is hosted by the following two bloggers:
Please stop by their blogs for some great chases and daily adventures.
I've been in Colorado this week, so chasing my fitness / weight loss goals was quite interesting.
How did I do?
1) Remember my weight loss goals. - Done! During the days I was in the conference, I ate a half a salad and a half a sandwich for lunch and very light dinners. No soda this week until after the Glow Run, and then ... well hiking through the Rocky Mountains. ... But, ... I did pretty well.
2) Explore the Gym! - Fail. I didn't even go to the gym. We went hiking, and exploring outside rather than the gym!
3) Discuss 2 new ideas with my husband. - Done! We road tripped from Colorado Springs to Estes Park (about 2+ hours) and hiked all day. During that time we talked, dreamed and planned our lives in an ideal world.
I'm absolutely exhausted from this trip, but i'm looking forward to chasing some goals next week!
1) Blog about the Glow Run!
2) Meal Plan
3) Run 2 days
4) Yoga 1 day
Season of Growth
Read 3 research articles for fun!
What are you chasing?