*Game Show Announcer Voice*
Welcome to A Storybook Life! ....
Yeah, I'm kind of tired from a busy weekend, and tend to get a little cheesy!
Once again, I'm linking up with
Mindy
and
Molly
for the weekly chase! It's a weekly check in on your goals. A time to reflect on how do did last week, and set goals for the upcoming week. Honestly, I love it! It helps me feel productive!
Before I get started. Who noticed my new banner?!?!?! What do you think?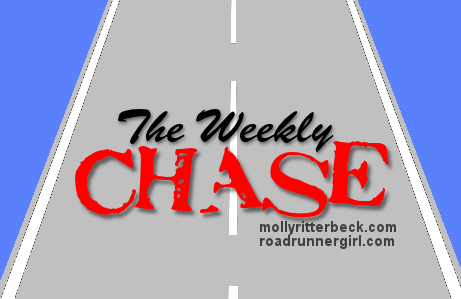 2. Cook Dinners and Pack Lunches DONE! It was not easy. I even cooked on nights we typically go out (Friday before Youth Group for example!)
3. Begin Prepping for Chris' Birthday Party! DONE! We are having his family over on Sunday for lunch. On his actual birthday (May 21st) We are going to go to lunch together and then have his special birthday dinner at his parents house. His mom cooks you whatever you want on your birthday. It's kind of a fun tradition. I'm a little spoiled. Because I don't eat Steak (very often) and I don't eat Ham. She always makes a chicken breast for me. (Yeah, I'm spoiled!).
This week. ....
This week I have a LOT of cleaning to do in preparation for the Birthday Party. I've washed all the laundry from our recent trips. (
Colorado
, &
Everest Challenge
) and Prince Charming has helped fold and put most of it away, there are just a few piles of laundry that need to be put away.
So, here are my goals.
Home Goals
1) Put away all laundry and suitcases - I'm a little ashamed to admit to the internet that my rolling suitcase is still at the foot of my stairs because I don't want to carry it UP the stairs.
2) Clean Couches and Floors - I need to vacuum our couches and floors. As well as MOP!
Fitness Goals
1) Jillian Michaels at least 5 days - It's getting really hot outside. So, I've decided to focus on some strength training for the next few weeks. Then, when I start seriously training for the Goofy Challenge I'll have fresh running legs AND I'll be stronger!
Challenge Goal
Make an effort to not put carbonated beverages in my body. I love soda, and it's NOT good for me. If I want to be healthy then I need to stop drinking soda. No matter how much I want it.
So, those are my goals.
Anyway, those are my goals.
Question: Does anyone else struggle with Soda?