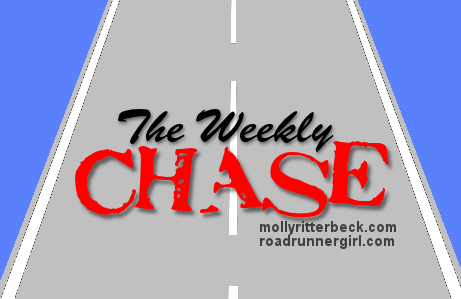 Linking up with Mindy (
http://www.roadrunnergirl.com/
) and Molly (
http://mollyritterbeck.com/
) for another great chase! Be sure that you check out their for some more great chases!
Last Week.
I had
big
goals to run, do yoga ... and meal plan. Sadly. The
only
thing I was able to check off of my goals list was post about the
Glow Run.
Since we had registered to volunteer for Disney's Everest Challenge, and we've started our month of Birthdays, we seemed to be out of the house EVERY night this week! Seriously, it was crazy! Sooo, here is my goals for this week.
1) Do my 5 by the 5th (on the 6th).
- I had planned to run it on Saturday in Orlando between volunteer shifts, BUT since we had Youth Group on Friday, Prince Charming and I were up until 12:30 and we were leaving from Miami to Disney's Wide World of Sports for the Kids Races! Yeah. Our first volunteer shift was at 8:30 a.m. Therefore, we had to leave our home by 3:00 a.m. to be sure we arrived on time. When our shift ended at 1:00, we had some lunch checked into the hotel and feel completely asleep until about 4:00 p.m. My
plan
was to run at the hotel between shifts. - but it didn't happen. ANYWAYS! I'm going to do a full re-cap of the volunteer experience!
2) Cook Dinners & Pack Lunches
- partially to put some extra money in the bank for tuition and a hotel for Goofy, partially because it's healthier, and I miss my eating schedule!
3) Begin Prepping for Chris' Birthday!
- His Birthday isn't until the 21st BUT I need to clean my house, plan a menu and figure out if we are only having family over ... or friends too ... usually I throw a big party for him but this year he kind of asked me to not go over board. ... (
Star Wars Birthday!
)
Those are my goals. Nothing big, just some simple every day goals.
What are you chasing?