Tomorrow is Prince Charming's Birthday!!!! I love Birthdays, because they represent life, and growth, and often HAPPINESS! I also love celebrating my husband's birthday because it's a day that I can spoil him. He's not exactly into being the center of attention.
Typically I throw him a huge-ish party and we watch a movie, and have a lot of fun. This year he specifically asked me
not
to do a party. So, I only invited his family and was going to decorate the house all Goofy Themed and we were going to watch A Goofy Movie.
...well, I was so un-motivated to decorate that I skipped it.
We ended up watching race re-caps on YouTube with his family for most of the afternoon then we all kind of slept on the couches while A Goofy Movie was playing. Totally non-traditional birthday celebration for us.
anyway...
I hope your week was fabulous. I'm about to come clean on how I did with my goals with week during the weekly chase!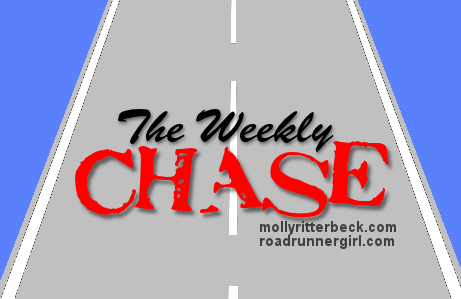 Once again, I'm linking up with Mindy and Molly, please check out their blogs for more great chases! (Link is located in the image above)
Home Goals
1)Put away Suit Cases. I didn't exactly accomplish this. ... I took the suitcases upstairs but haven't put them fully away in the closet yet. They are emptied though.
2) Sweep / Mop Downstairs. Yes. I spent the entire day on Saturday deep cleaning out downstairs. I even have a giant box of unused clutter for goodwill!
3) Jillian.
Check out my Fitness Friday Post to see how I did. ...
(lol, not-so-hot)
Say No to SODA!
I did pretty well, until Friday. On Friday, I was SO tired after work that when we went out for dinner I made a bad decision and ordered a coke. - It was delicious!
_ _ _
This Week.
Walk.
I'd like to go on at least 2 long walks with my little rats *Rat Terriers*. (Around the golf course is about 4 miles)
Sleep.
Last week I had a couple rough nights. There was just too much on my mind and so sleeping was a little rough. I've given those issues that were stressing me over to the Lord, and I'm moving on. So Lord willing, I'll be back to getting some good rest! - The challenge is going to bed at a decent time.
Jillian.
I've seen a lot of improvement in my strength. Therefore, I'd like to continue working with Jillian (via DVD) a couple times this week.
Bring a Friend Along.
For this goal, i'd like to bring my friend along via prayer. My childhood friend is serving the Lord in a different country and I swear, she's like a super hero! I don't pray for her as often as I should, so my Bring a Friend along, is to bring my friend along on my walk with Jesus. During my times of prayer I want to make a conscious effort to bring her before the Lord.
Question: Who will you bring along during your journey this week?