Today is the 3rd day in June. Yes ... JUNE!!! I can hardly believe how fast this year is flying. I hope the next half of the year flies too!
We are here in June, and it's time for another Weekly Chase!! Each week, I link up with Mindy (Roadrunnergirl.com) and Molly (
http://mollyritterbeck.com/
) to share our accomplishments from the previous week and set some goals for the coming week. I LOVE it! I love it because it has taught me to set realistic goals for myself and accept that sometimes, life happens and I'm not able to get everything done that I wanted to get done. It is, what it is ...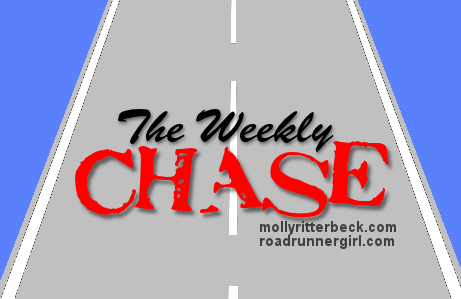 Sleep. Done. I made sure I got my full 8 hours of sleep each night, and loaded up on water!
Walk. Done. I walked on Monday with my pups and then Saturday at the Tutu 10K relay, I ran two of the miles and then walked back to the start line.
Meal Plan. Somewhat. I didn't write down what we were going to have, but we cooked at home and ate thoughtfully. No going out to eat on a whim or anything like that.
Bring a friend along. This week I spent the week in prayer for my Prince Charming. It was such a blessing to lift him up in prayer. I know that his courses this semester have been tough, but I just pray that even though this phase of grad school he will know that I wholeheartedly support him!
Anyways, I felt I did pretty well with my goals for the week. This week, I'm going to take a break from fitness related goals and focus on a couple other areas.
Home.
1) I have got to finish going through my clothes. I have far too many clothes, and I need to get rid of the ones that don't fit. Seriously.
2) Fold Laundry. I've had a pile of laundry that is only growing. I need to just fold it and put it away (As I fold, I'll begin adding to my donate box).
3) Organize downstairs closets.
Health.
1) be conscious of my calorie goal. - Achieve the goal with healthy fruits, veggies and whole grains.
2) Go on at least two runs.
So, there you have it. My five goals for this week. It is actually a pretty packed week for me, but these are definitely goals that I can achieve if I stay focused!
What are your goals?