I am
so
happy to back on the Weekly Chase!! The last couple of Weekly Chases, you
may
have noticed I was always making the goal of "resting". Well, I finally figured out why I just couldn't keep up with my normal routine.
Then
it was too early to share my news with the world, so I just took a little break from blogging. Well, i'm BACK (and so are my energy levels!)
So, here's my weekly chase!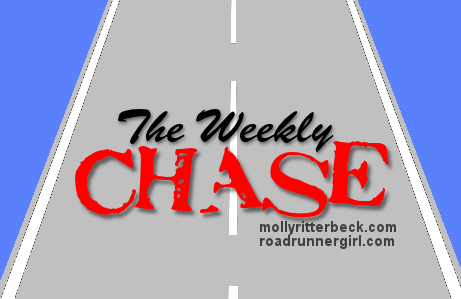 As always, the Weekly Chase links up with
Mindy
and
Molly
. Please remember to check thier blogs for more great chases!
Health
Meet my calorie goal. - Although I haven't been sick (thank the Lord!), I don't have a very big appetite so sometimes its hard for me to meet my calorie goal. I plan to check in my using My Fitness Pal.
Walk or Run 2 days this week - We are on "vacation" this week, so it might be a little difficult.
Baby Jimenez Prep!
Spend as much time as possible with Prince Charming! - Not hard, but much needed. This week we are on vacation. But, it's more of a working vacation because my husband was asked to speak at a VBS in Tampa. So, we are staying with my sister and exploring some of my old stomping grounds from childhood.
Shop - My belly popped the other day so I need to start finding work appropriate clothes that will fit over my belly.
That's it. Just 4 goals for the week. What are your goals for the week?