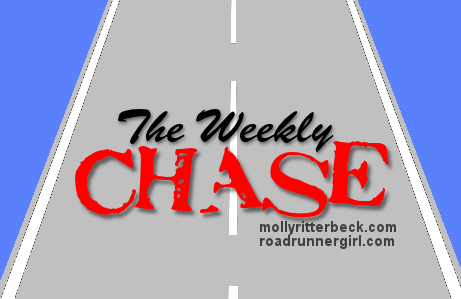 It's that time again. Time to link up with Mindy and Molly to share my goals, and then chase them!
Catch up from my
last Chase
!
How did I do?
Health Goals
1) Stretch and Roll my calf muscles each night - not
every
night - but I did get rid of the soreness from that pesky leg cramp.
2) Walk 1 mile on Monday, Tuesday, Thursday, Saturday - Walked on Monday, ran on Saturday (it was raining on Tuesday and Thursday + a cool front so I was trying not to get sick).
3) Drink plenty of water - Yes! I've been able to maintain about 100 ounces of water a day. I feel best when I'm hydrated.
Home Goals
1) Put away my laundry - DONE!
2) Write in my pregnancy journal ... HAHAHA Nope!
This week, begins the final stage of pregnancy.
Trimester 3. You know, it's the fun part - you start to see little tiny socks and bathtubs for tiny people. You get distracted when you walk by your guest room and see that your guest bed was traded in for a crib ... a CRIB? People are throwing you showers, and all you care to read seems to be articles and blog posts that are supposed to prepare you for motherhood.
Trimester 3...
Baby Jimenez will be here before I know it, so I better get going with my goals.
Health Goals
- Walk on Monday and Tuesday.
- Stretch and Roll
- Stay Hydrated
-
Squat Challenge
!
Baby Goals
- Buy note cards and stamps
- Prepare the #babyjimenez' room for an explosion of cuteness!!
Those are my goals, what are you chasing?!?!?!