This Saturday Prince Charming and I had the opportunity to volunteer with
Pretty Muddy
at the Susan G. Komen
Race for the Cure
event in Miami! We arrived bright and early around 5:45 a.m. and made our way through the sea of tents to the Pretty Muddy tent. It took us quite a while to find the Pretty Muddy tent. Mostly because I had NO idea how large the health expo was going to be so I didn't really look at the map. After about 20 minutes of walking around, we pulled up the map and quickly located Meg!
Meg greeted us, gave us a couple of quick tips and sent us on our way to spread the word about Pretty Muddy! As race time approached, the crowd grew and was simply vibrant! I was so inspired as I walked around and saw so many survivors, supportive family members, friends and information booths. It was the largest health expo i'd ever seen at a race before!
At first it was hard to pass out the flyers about Pretty Muddy. Mostly because I'm super shy - and I have to really work at being out going! - i know right? Anyway! After about an hour, i'd passed out well over 100 flyers and made my way back to the table to hang out with Meg.
Overall it was a great opportunity to meet another event staff member for Pretty Muddy in person, and of course spread the word about Pretty Muddy!
So what
is
Pretty Muddy? It's a women's only mud run and obstacle course. With 10 different obstacles, ranging from a tube of foam to run through, and a giant slide leading you into a pool of mud, it's a must do for women of all ages!!
If you sign up for either the Tampa or Miami event during the month of October, you can receive a free t-shirt! Use the code TSHIRT at check out!
We were only able to volunteer for a short time because we were setting up the crib on Saturday afternoon!! - More of that later!
It's time for my Weekly Chase!!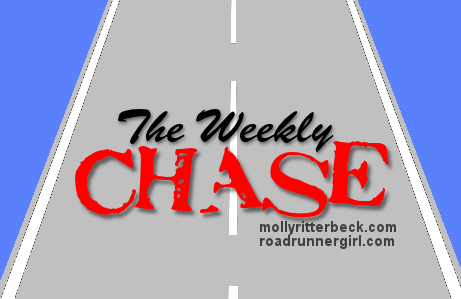 Linking up with Mindy and Molly (links to blogs in image above), I bring you another weekly chase!
Yesterday marked the beginning of my last week in the second trimester. I am like in total shock! I can't believe how fast time is flying, and that Baby Jimenez is almost here!! Since I've reached another milestone, i'll do a full bump date later this week! - So stay tuned!
Here are my goals for the week!
Health Goals!
1) Stretch and roll my calf muscles each night - had my first leg cramp last Thursday and I'm STILL sore.
2) Walk 1 mile on Monday, Tuesday, Thursday & Saturday!
3) Drink plenty of water - Thursday's leg cramp was likely due in large part to de-hydration. :(
Home Goals
1) Put away my laundry
2) Pick an outfit to wear to my Baby Shower! - My sister's are throwing me a Baby Shower in Tampa on November 2nd.
3) Actually write in my Pregnancy Journal.
What are your goals for the week?
*Disclaimer, I am a blogger for the Pretty Muddy, Mud Run. Although I received one free entry into the race, the opinions posted are my very own.*